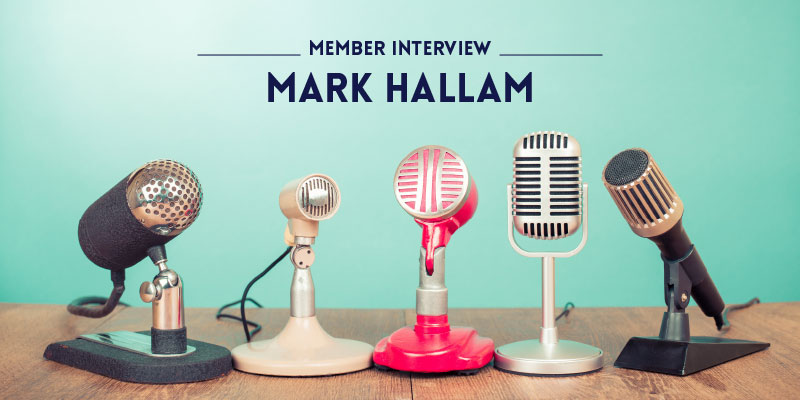 Mark Hallam is happy as a pig in the proverbial! Why? Read on and find out …. Hint, this interview took place on Grand Final day.
A: Thanks for your agreeing to the interview Mark but seriously, what is with that hideous jumper?
Surely you know better than that! When did you become a member? What are you playing off?
M: The jumper is a beauty isn't it! I joined about 3 and half years ago. Currently playing off 2.
A: Bushranger. What was your original aim when you started playing golf in terms of your handicap?
M: I started with no particular aim but have changed that as the years progressed. Earlier this year I was really close to getting to 1, so I would like to tick that off at some stage and then who knows.
A: So what's in the bag? Do those things have hickory shafts in them?
M: Steady on, we don't all have pro-shops instead of garages! The driver is a Taylormade Rocketballz, 10.5 degree, Bridgestone supper whopper 4 wood 15 degrees, Taylor made rescue 21.5 degree, Taylormade Rac's 5-PW, Mizuno wedges 52, 56 & 60 and a Taylormade Ghost Spider.
A: What's the greatest improvement you have seen at the club in your time as a member?
M: The purchase of the tractor which gives us a lot of scope to do our improvements, it was a great acquisition for the club.
A: What's the funniest thing you have seen on the golf course, as if I need to ask?
M: Playing at Kingston Beach and one of my playing partners, Ryan Johnston, threw a putter into a tree to the left of the green, it got stuck and he had to climb the tree to retrieve it. Couldn't stop laughing at that one. Who would throw a club into a tree?
A: Now hang on, in fairness to Ryan and any others that may have done something similar, it always seems like a good idea … until you realise what has to happen next … or so they tell me!
M: Yep, you sound like you have a bit of experience?
A: OK, moving on! Tell me about your most embarrassing moment?
M: That would have to be when I was taking some practice swings near the 18th green at Kingston Beach with a 6 iron that managed to slip out of my hand and proceeded to land on the roof of the club house!
A: Seriously? Now that would have been funny, the Chardonnay set would have been seriously impressed! So what's your golfing highlight, to date?
M: That's an easy one. Making a hole in one on the 8th hole at Royal Rosny in 1999! The hole is long gone but the memories remain. Making the final of the Kingston Beach championships beating some great players on the way through was also a great personal achievement.
A: Fantastic effort that! So tell me, who makes up the dream foursome for you?
M: Rory McIlroy, Luke Hodge and Miranda Kerr.
A: Given your jumper, I thought you might have gone with him! What's the one thing that you think the club needs to consider for the future?
M: Won't be popular but I would like to see the course lengthened to keep it relevant given the progression of technology.
A: Thanks for your time Mark, good luck this arvo!
(Post script: Mark was last seen celebrating his beloved Hawks back to back premiership win well into the evening!)