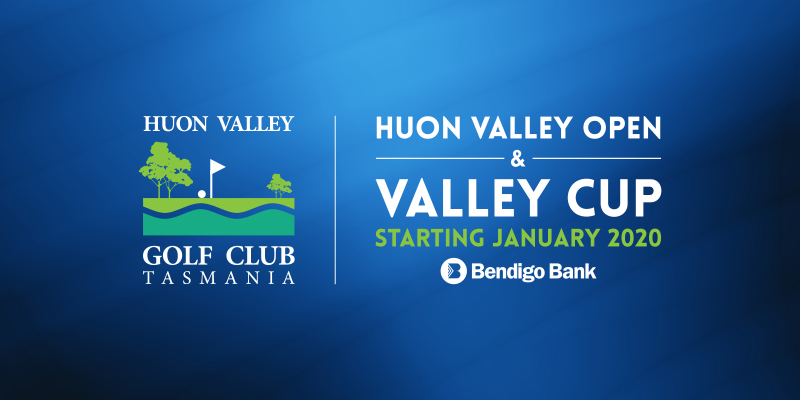 2020 Huon Valley Mens Open
Friends rally to support Tasmanian champion.
With a star studded line-up, including many current and former State players, the golfing event of the year for the Huon Valley Golf Club was always going to be full of excitement with 108 players from across Tasmania and interstate. Everybody was at the Huon Valley Open to play in the Toogood Trophy event and to support local champion Bill "Whippy" Wellington, and with a trophy named in his honour everybody was looking to win.
The first days play saw northern golfing star Craig Hancock and southerner Nathan Gatehouse battle it out to finish joint leaders at 3 under par at the end of the days play. Many contenders were battling it out at around par including local Huon Valley member and multiple Club Champion Adrian Butt.
On the final days play conditions deteriorated slightly with the winds making it increasingly difficult in the afternoon. The par 5s were playing short and provided a chance for the lower handicappers to make up ground on the leaders. Unfortunately Gatehouse succumbed to the conditions posting a 73 and taking him out of contention for the trophy.  A late chase by Wynyard's Brayden Field, carding an impressive total of 9 birdies, put him in the clubhouse as the early leader at 4 under par for the event and put pressure on the last group as they finished down the final short par 5.  Paul Read had a short putt for the win, and all eyes were on Andrew Phillips as he putted for eagle and the chance to join Read in a  playoff. Phillips agonisingly missed the putt and handed the championship to Paul Read with a 36 hole tournament total of 6 under par.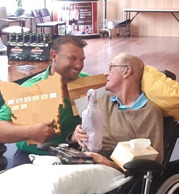 Paul Read (left) alongside champion Bill Wellington (right)
In Reads speech he mentioned what an honour it was to have his name on a trophy that is named after golfing icon Bill Wellington who holds an impressive state championship record and a total of 23 club championships between Tasmania and Lindisfarne Golf Clubs.
In the Net event, good conditions left the door open for posting some very impressive Net scores. Locals Reece Polley and Stacey Wooley, together with Royal Hobart's Jeremy Morris, were leading contenders going into the second days play. An impressive final round meant that nobody was catching Morris who posting a gross total of 2 over par and a net total of 10 under par for the event. Morris also said that he felt very privileged to have won an even named after Bill Wellington.
Tasmania Golf Club will also be holding the Bill Wellington Lindisfarne Cup on the 1st and 2nd February.
Michael Webb, Huon Valley Golf Club
2020 Huon Valley Open Results
36 Hole, Par 144
Gross
Net
Position
Name
HC
Gross Score
Position
Name
HC
Net Score
1
Paul Read
-1
138
1
Jeremy Morris
9
134
2
Andrew Phillips
-2
139
2
Reece Polley
19
136
3
Craig Hancock
-4
141
3
Guy Wymer
32
136
4
Brayden Field
0
142
4
Robert Paul
13
139
5
Nathan Gatehouse
-2
142
5
Brendon Hills
21
139
6
Richard Kube
0
146
6
Paul Read
-1
140
7
Nik Johns
2
146
7
Jason Paul
10
140
8
David Pretyman
1
147
8
Robert Griggs
25
140
9
Matthew Glover
-2
147
9
Ben Hornsey
5
141
10
Mark Schulze
-1
147
10
Brayden Field
0
142
11
Jack Lakin
1
151
11
Braeden Page
14
142
12
Ben Hornsey
5
151
12
Nik Johns
2
142
13
Marcus Wellington
3
151
13
Andrew Phillips
-2
143
14
Jeremy Morris
9
152
14
Craig Clark
7
143
15
Mat Howe
4
152
15
Steven Payne
10
143
16
Mark Hallam
1
152
16
Michael Webb
7
143
17
Joshua Hill
-1
155
17
William Williamson
23
143
18
Adrian Butt
3
156
18
Mat Howe
4
144
19
Stuart Randle
5
157
19
Nathan Coad
10
144
20
Craig Clark
7
157
20
Stacey Woolley
22
144
21
Michael Webb
7
157
21
Heath Lovell
14
145
22
Peter Shaw
1
158
22
David Pretyman
1
145
23
Geoffrey Griggs
4
159
23
Matthew Connelly
15
145
24
Tom North
2
159
24
Marcus Wellington
3
145
25
Gus Burrell
5
159
25
Justin Jarrett
8
145
26
Andy Hind
4
159
26
Trevor Savage
9
146
27
Craig O'keefe
4
159
27
Richard Kube
0
146
28
Jason Paul
10
160
28
Nathan Gatehouse
-2
146
29
Justin Jarrett
8
161
29
Stuart Randle
5
147
30
Blake Wellington
2
161
30
Ned Trewartha
15
147
31
Mathew Keough
6
162
31
Geoff Abbott
17
147
32
Richard Denholm
3
162
32
Geoffrey Cockerill
14
148
33
Steven Payne
10
163
33
Peter Poke
25
148
34
Mark Keough
7
163
34
William Newham
31
148
35
Robert Dyson
5
163
35
Nicholas Clark
10
148
36
Trevor Savage
9
164
36
Aaron O'Neal
10
149
37
Nathan Coad
10
164
37
Jack Lakin
1
149
38
Robert Paul
13
165
38
Gus Burrell
5
149
39
Garry Quarrell
3
166
39
Scott Polley
18
149
40
Garry Sargent
4
167
40
Craig Hancock
-4
149
41
Simon Direen
7
168
41
Mark Schulze
-1
149
42
Nicholas Clark
10
168
42
Chris Leu
24
149
43
Aaron O'Neal
10
169
43
Mark Keough
7
149
44
Braeden Page
14
170
44
Mathew Keough
6
150
45
Anthony Webb
10
170
45
Michael Silk
15
150
46
Geoff Flint
8
171
46
Sean O'Neill
14
150
47
Heath Lovell
14
173
47
Anthony Webb
10
150
48
Andrew Wiggins
6
173
48
Corey Baker
12
150
49
Paul Beard
6
173
49
Mark Hallam
1
150
50
Reece Polley
19
174
50
Adrian Butt
3
150
51
Corey Baker
12
174
51
Geoffrey Griggs
4
151
52
Matthew Connelly
15
175
52
Rohan Clarke
15
151
53
Geoffrey Cockerill
14
176
53
Matthew Glover
-2
151
54
Tony Bradley
10
176
54
Marek Chabowski
13
151
55
Tony Kay
11
176
55
Andy Hind
4
151
56
Nigel Nicholls
10
176
56
Craig O'keefe
4
151
57
Denis Lovell
11
177
57
Marcus Collis
16
152
58
Ned Trewartha
15
177
58
Justin Blizzard
25
152
59
Marek Chabowski
13
177
59
David Wood
19
152
60
Mark Taylor
12
177
60
Troy Page
15
152
61
Sean O'Neill
14
178
61
Hans Thogersen
16
152
62
Wayne Darlington
10
180
62
Robert Dyson
5
153
63
Michael Silk
15
180
63
Mark Taylor
12
153
64
Brook Teale
11
180
64
Tony Kay
11
154
65
Harvey Flakemore
11
180
65
Simon Direen
7
154
66
Rohan Clarke
15
181
66
Graeme Millhouse
20
154
67
Peter Burton
11
181
67
Denis Lovell
11
155
68
Geoff Abbott
17
181
68
Tom North
2
155
69
Patrick Kelly
13
181
69
Patrick Kelly
13
155
70
Brendon Hills
21
181
70
Philip Gordon
17
155
71
Alan Everson
10
182
71
Geoff Flint
8
155
72
Troy Page
15
182
72
Richard Denholm
3
156
73
Marcus Collis
16
184
73
Tony Bradley
10
156
74
Hans Thogersen
16
184
74
Peter Shaw
1
156
75
Scott Polley
18
185
75
Nigel Nicholls
10
156
76
Graeme Cochrane
15
187
76
Graeme Cochrane
15
157
77
Wayne Crawford
14
187
77
Joshua Hill
-1
157
78
Stacey Woolley
22
188
78
Blake Wellington
2
157
79
Jeremy Cracknell
14
189
79
Rene Hansen
17
157
80
Philip Gordon
17
189
80
John Scott
19
158
81
William Williamson
23
189
81
Michael Dredge
22
158
82
Jacob Sale
10
189
82
Brook Teale
11
158
83
David Wood
19
190
83
Harvey Flakemore
11
158
84
Robert Griggs
25
190
84
Garry Sargent
4
159
85
Rene Hansen
17
191
85
Peter Burton
11
159
86
Jarrod Farrelly
13
192
86
Robin Hoare
22
159
87
Graeme Millhouse
20
194
87
Garry Beaton
19
159
88
Antony Bird
16
196
88
Wayne Crawford
14
159
89
John Scott
19
196
89
Wayne Darlington
10
160
90
Dean Knowles
16
196
90
Garry Quarrell
3
160
91
Simon Duggan
16
196
91
Jeremy Cracknell
14
161
92
Brett Millhouse
17
197
92
Andrew Wiggins
6
161
93
Chris Leu
24
197
93
Paul Beard
6
161
94
Garry Beaton
19
197
94
Chris Armstrong
26
162
95
David Lowry
17
198
95
Alan Everson
10
162
96
Peter Poke
25
198
96
Brett Millhouse
17
163
97
Guy Wymer
32
200
97
Antony Bird
16
164
98
Justin Blizzard
25
202
98
David Lowry
17
164
99
Michael Dredge
22
202
99
Dean Knowles
16
164
100
Robin Hoare
22
203
100
Simon Duggan
16
164